Monday August 16, 2021
India Inc: In Recovery Mode
Every three months, for over two decades, IMA has run its Business Confidence and Performance Index (BCPI) survey among CEOs and CFOs. The headline index – a composite of expectations around the macro-economy, business performance and capex spends[ Over 200 companies responded to the July survey. The headline index weighs the past (Q1, or Apr-Jun) and expected future (Q2, Jul-Sep) on a 40:60 basis. It gives a 25% weightage to the macro-economic outlook, 60% to business performance and 15% to capex (actual/planned).] – is strongly correlated with the GDP data, which follows with a lag. This makes the BCPI a good lead indicator of growth. After dropping sharply in April, the July (Q2FY22) results signal a strong pick-up in sentiment, although Covid's second wave has pushed back the 'return to normal' for many companies. This paper explains.
A sharp uptick in sentiment…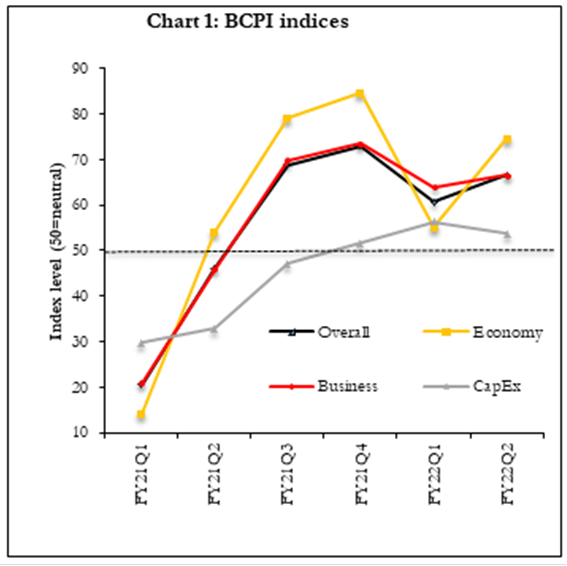 Business confidence levels in January 2021 were at their highest in many years – a sea-change from mid-2020
At the start of the year, when India seemed to have put the worst of Covid-19 behind it, the BCPI surged to a multi-year high of 73. Values above 50 indicate net optimism/growth while those below 50 indicate the opposite. The contrast between January 2021 and the previous April – when the BCPI hit an all-time low of 20.6 – could not have been starker (Chart 1).
The April index fell sharply, but maybe not sharply enough, while the July index may be underestimating the pick-up
Covid's second wave was a brutal reality check. In early April itself, companies had started to trim their expectations for Q1, with the headline index falling by 12 points but the macro index plunging by nearly 30. In hindsight, even these numbers underestimated the full impact of the second wave. The pick-up since, with the overall index climbing to a healthy 66.6 and the macro index to 74.6, appears relatively modest. In fact, just as the Q1 outlook was initially better than the reality proved, the one for Q2 may be masking the quarter-on-quarter improvement.
…led by across-the-board improvements
All of the main business sub-indices are strongly up
The volatile macro index has moved up more sharply than that for business performance. But on nearly all business parameters – from sales and new orders to net profit, capacity utilisation and hiring – companies are signalling a sunnier outlook for Q2. For instance, just 36% of companies saw sales grow QoQ in Q1, but 39% saw a drop. In comparison, 75% expect a rise, and just 4% a fall, in Q2. On a weighted-average basis, Q2 revenue growth for industry as a whole is projected to be 12%, up from 9% in Q1. Given the rising cost pressures today, average profit growth is expected to rise at a more measured pace, from 7% to 8%.
Companies are optimistic about hiring, capex and discretionary spends
Hiring (43% say it will pick up in Q2), capex (64% plan to make investments) and discretionary spends are all likely to accelerate. An early sign on the people front is that companies are reporting a steep increase in attrition rates.
Sectoral gaps are narrowing…
All sectors are now above the 60 mark for the overall index, suggesting a broad-based recovery…
Pointing to the broad-based nature of the recovery, there is a distinct narrowing of cross-sectoral gaps in outlook (Chart 2). While IT-ITeS firms remain about where they were a quarter ago – i.e., strongly positive – chemical, automotive, BFSI and consumer goods firms have seen a big uptick. Crucially, all of the nine sectors we track are currently above the 60 mark, indicating that they are well past the switchover point between pessimism and optimism. Moreover, when grouping companies broadly across the services-industry divide, there is no longer a meaningful gap between the two, as there was only a few months ago, when services dipped.
…but for some companies, the road ahead is long
Wave 2 has pushed back the timelines for a 'return to normal' for firms that were not yet at BAU as of April
Not all the news emanating from the July BCPI, however, is cheery. Close to half (46%) of firms had achieved 'normalcy' – roughly 90% of pre-Covid levels of demand – by April 2021, and another ~28% thought they would get there by about now, i.e. Q2. Among those who were not yet at BAU, the second wave has pushed the timelines for the return to normalcy back by an average of 5.3 months. The bulk of these companies will now have to wait until H1 of calendar 2022 or later to get there.
The contents of this paper are based on the results of the Q2 FY22 Business Confidence and Performance Index (BCPI) survey, which was run in early-mid July, and which received over 200 responses. The full report was sent out to IMA's Forum members and others who participated in the survey. Please visit www.ima-india.com to view current papers and our full archive of content, in the IMA members' Knowledge Centre, accessible via the Login link on top of the page. A podcast version of this paper is also available here. IMA Forum members have personalised website access codes.